Aweber support videos
Video Tutorials
Learning how to quickly and easily use AWeber in your business is easy with our online video tutorials. Click one of the links below to begin viewing each section.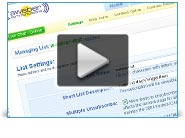 Learn everything you need to know for a quick and easy setup of your first email marketing campaign. How to set up your list, add messages, and publish a sign up for to your website.
————–
You can easily create and schedule email newsletters to be sent automatically. See how to create and send an email newsletter using one of 103+ pre-designed templates in a few simple steps.
————–
————–
Start an effective campaign with an autoresponder and a follow up message. Watch this video for ideas on how to build trust and credibility via opt-in email.
————–
————–
Don't let your website visitors leave and never return! Learn how to easily build your subscriber list with effective opt-in forms.